Soak a carpet with plenty of water and apply color fixer.
specially formulated detergent and, by using rotating brush, let dirt come off.
Add water again and drain it quickly.
If it takes too much time, color will start to come off. It is important that this process is carried out with speed.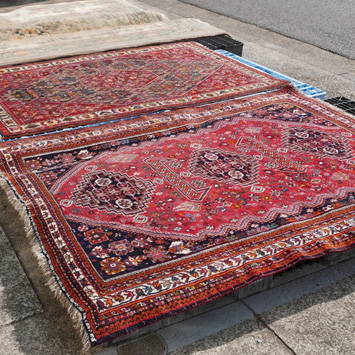 Drying in the Sun is an essential process. It has a sterilizing effect, and it also helps to restore the fiber's original softness.
Every single task is double checked by the specialist and a director to ensure a perfect finish.
Item
Type
Price

Persian carpet (Silk), Turkish Hereke (Silk)

Silk carpet

¥6,000 (w/o tax)

Chinese rugs (Silk 120), Indian rugs (Silk)

Silk carpet

¥5,000

(w/o tax)

Persian rugs Wool (Regular quality), Gabbeh

Wool

¥3,000

(w/o tax)

Chinese rugs (Wool), Pakistani regular quality (Wool), Indian rugs (Wool), etc.

Wool

¥2,600

(w/o tax)